Amras Labs has been working with leading hospitals helping them in adopting digital products to improve their business numbers. As a healthcare software solutions development company, we are committed to help partners transform their healthcare business using technology
Case Study
Diagnostics and health checkups are big business opportunities for hospitals and healthcare delivery centers. In India, with growing population, and ever growing diseases related to lifestyle, this is a big opportunity for hospitals and diagnostic centers to tap into the market.
The Problem
India's 2nd largest hospital chain gets several thousand health check up patients everyday. However, an equally number of them book the appointments and never turn up on scheduled date and time for their health checks. This results in lost revenue for the hospital.
The Opportunity
If we could get a patient to book a health check by paying upfront, this will result in 2 things:
Immediate realised revenue for the hospital
Less risk of patient not turning up on scheduled date and time, and hence revenue loss is lessened
Requirement
The client wanted a digital solution to ensure patients can pay and book a health check package from the web application with his preferred date and time. The web application will be like an e-commerce platform with preferred locations and packages. The client wanted flexibility to add discount coupons and add/modify/delete packages as needed. The product needed to be scalable to be rolled out with added features and products at a later stage.
Our Solution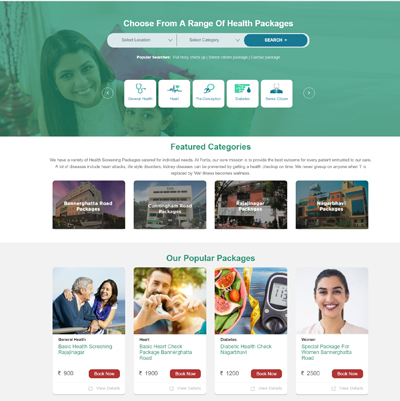 A thorough analysis was undertaken to understand the online behaviour of customers who are looking to book health packages. We defined various user personas and defined their user journey and health check needs. Based on the need, a user flow diagram was developed along with inputs from the client on their health check footfall data.
The product strategy helped us define the UI/UX of the platform. Similarly, the admin dashboard was developed to ensure ease of use by the client in managing their products and offers.
The individual health package specific to a page was created as a separate product page, with features and specifications, and instructions to patients. We also listed related packages in other locations. With this layout, we made the checkout process intuitive. Patients had to choose a date and proceed to book an appointment through the payment checkout process.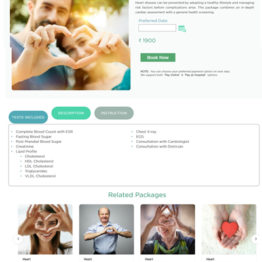 Result
The product has met with resounding success with almost 50% of the users using the online platform to pay and book health check ups within 5 months of launch.
About Healthcare Application Development
Healthcare is at a juncture of technology transform to not only improve service delivery and patient care, but also to improve revenue and profits through efficient processes. Tertiary healthcare delivery providers, such as Hospitals are in need of technology partners who not only understand their business, but can bring in value added knowledge to make their processes better and effective. Amras Labs has been at the forefront of technology delivery for healthcare companies both B2B, i.e., the hospitals, and B2C, which are consumer facing. Through technology innovation, we bridge the gap between consumers and providers of healthcare benefiting all the stakeholders in the process. Healthcare IT outsourcing can prove to be great for your business if you choose the right partners. We are ready to help healthcare providers in the UK, who are in need of an IT and technology partner. Our team of product managers and technologists can help you design solutions, from customer acquisition to patient check-in to billing management and CRM to ensure you are able to deliver your services effectively and fast.
Ready to have a conversation?