An effective Patient Care Management helps patients with better clinical outcomes through constant and continuous monitoring and timely interventions from the care team. Imagine a patient suffering from Dementia. She needs a care team, who can not only monitor daily activities, but also enable her with the right medications, tests and other needs as and when needed to ensure she can recover faster or at least does not deteriorate further.
Patient Care Management can be very effective in tackling chronic illnesses. However, the NHS in the UK is already reeling under pressure due to shortage of resources and increasing demand from an ageing population. The budgets for social care have been reduced over the years, which has resulted in several care centres shutting down as they are just not economically viable.
Under these circumstances, it's important to use technology to ensure 360 degree management of the patient from care providers and everyone else involved in a patient's health ecosystem.
Salesforce Health Cloud, the Healthcare Add-on by Salesforce is an extremely powerful offering from the CRM behemoth to ensure better patient care management.
What is Salesforce Health Cloud?
It is a care provider and patient relationship platform that aims to provide an end-to-end personalized care for the patient, in a secure cloud platform, accessible over a mobile, that ensures patient confidentiality and conforms to privacy laws and norms.
For a patient, the healthcare ecosystem consists of the GP, the care manager, and the family members. Apart from these, other stakeholders like insurance and third party labs can also be interconnected to provide one single platform to manage the health of the patient. Patient Care teams, the GPs and other stakeholders have access to the platform with different levels of access to ensure seamless delivery of effective healthcare.
Through the use of workflows, triggers and interconnected systems enabled through APIs, Salesforce Health Cloud facilitates communications across channels, thus enabling patients and their families to take ownership of their health goals and care plans.
Salesforce Health Cloud Benefits
Healthcare Interoperability
One of the biggest challenges in healthcare is Interoperability. As different systems used by different players and stakeholders in the ecosystem manages data in different formats and systems, accessing and sharing patient data between the stakeholders becomes difficult. Using the Fast Health Interoperable Resources (FHIR) standard, Salesforce ensures messages from the EHR system can be mapped to the correct Health Cloud Object. This is enabled using APIs as well as the use of Mulesoft technology and are compliant with HIPAA, Medicare, CDC, and NAACR.
Maintaining patient privacy and giving the right access and visibility only to the right member is critical to the success of any patient care management product. Salesforce enforces strict security and privacy through setting permissions and profiles.
Complete Patient Record View
We have been using the term 360 degree a lot in this article. What we mean is, Salesforce is a single platform which can integrate multiple stakeholders – GPs, insurance, patient, family and care agency through one single dashboard so that the patient can manage health properly. GPs define the problems, and based on that, care providers will set goals. Each goal will be accomplished through a set of tasks which can be executed by the patient, the family member or an external member as required. Salesforce provides a snapshot and detailed log of the patient's health records, GP visits, therapy sessions, medications and sends reminders to ensure the patient's health can be managed effectively.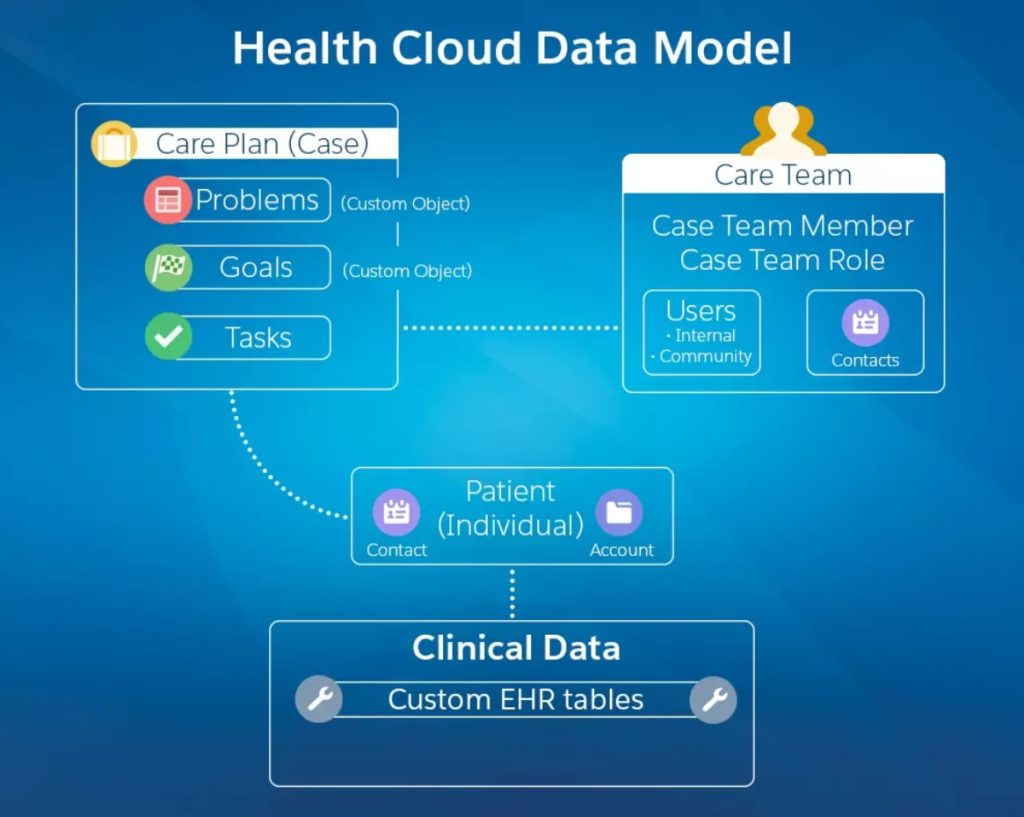 Imagine you are operating a Patient Care Agency and you are in charge of a patient who is above 65 years, has dementia and has diabetes and High BP. Through integrations with wearables, Salesforce detects that the BP of the patient has increased. The GP is notified who in turn suggests a change in diet and a new medication. You instruct the care manager, in charge of the patient to inform the patient/ her family member (who is part of the Salesforce Health Cloud Program) about this. The care manager will assign a task on salesforce to the family member to change the patient's diet, get the new medication. And imagine, all these communication happens through Chatter, a built in social application of Salesforce. As an agency, you are guaranteed to manage effective patient care for your patients all through the use of intelligent technology.
Integration with multiple sources
Integration with multiple Electronic Health Records (EHRs) and external systems to map to objects in Salesforce ensures data consistency and integrity. This data can be accessed by everyone involved in your patient care program. With the use of APIs provided by companies such as Mulesoft, Salesforce has become an effective platform to manage your patient's health in one place and provide exceptional care.
All stakeholders on a single platform
As mentioned in point 4, you can create a complete healthcare plan for your patient involving internal and external systems on Salesforce. Through one unified platform, you do not have to go through the hassle of maintaining different systems. Your productivity will increase and so will clinical outcomes of the patients. Think of this as CRM for patient health.
Is Salesforce Health Cloud worth the investment?
While we recommend Salesforce Health Cloud for your organization, it is worth noting these few points before you make a Salesforce Investment:
Develop a proper use case of how patients are serviced and do you have processes aligned to for these activities. Salesforce can only be as powerful as you are capable of using it.
Does your EMR comply with HL7 interoperability standards?
HL7 standards are important for an organizational level integration strategy
Does your organization have an Enterprise Serial Bus?
This is critical to exchange data between Salesforce and EMR. As hospital systems become more complex, each with different formats of EMR, it is important to have an ESB to manage data exchange.
Amraslabs is uniquely positioned to help hospitals and patient care agencies adopt Salesforce Health Cloud to offer effective healthcare delivery to patients. We believe our expertise in deep product management, user discovery and Salesforce capabilities will help you succeed and provide better managed clinical outcomes, thus improving patient happiness.